Responses for email interaction with The People Management magazine | Sachith Rai | Managing Director and CEO | Recruise India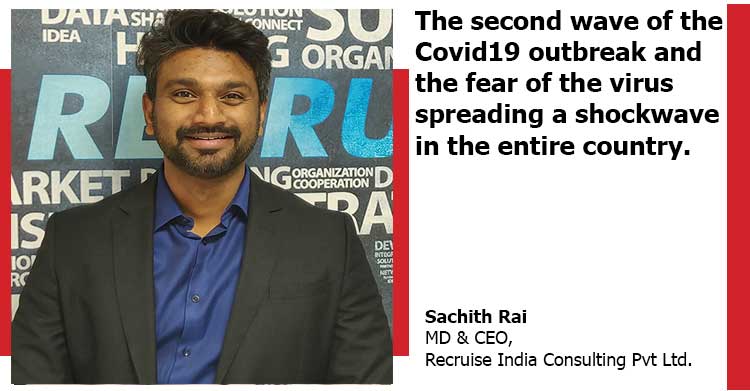 The second wave of the Covid19 outbreak and the fear of the virus spreading a shockwave in the entire country. This impacted the recruiters and hiring managers too, as scheduling face-to-face interviews has become impossible. Due to this, the hiring processes have slowed down or have witnessed a freeze.
Handling this efficiently is Recruise India, an end-to-end HR solutions company with a focus on executive recruitment, compensation benchmarking, talent pool analysis, attrition forecasting, knowledge process outsourcing, and technology hiring.
Recruise India Consulting was founded by Sachith Rai in 2006 with a recruiting and talent advisory service. It now supports more than 50 research consultants and over 60 recruiters for its global customers across the UK, the US, China, Singapore, etc.
Sachith Rai is the Managing Director and CEO of Recruise India Consulting. With experience of more than 20 years in talent acquisition, talent management and market research, he is leading Recruise India Consulting to build capacity for workplaces. His focus areas are leadership search, identification and hiring with special diligence towards research and visualising the company strategy.
Responses for email interaction with The People Management magazine (print)
How should organizations rethink talent management amid all this uncertainty?
At the beginning of the COVID-19 outbreak, there was uncertainty across industries about what will happen. But what surfaced was interesting — demand increased within two months of the pandemic. We had a lot of clients across healthcare and life sciences. This was followed by demand from IT firms that wanted to scale up their ecosystem in terms of cybersecurity and infrastructure.
An organisation should plan based on the need and demand which are coming in. At least the next two years are going to be promising.
How should organisations level up their employee support systems and work policies?
Given the situation, there is a need to make things more lucrative and comfortable. Work policies have started to change, given the work from home policy among other things. As a result, the ecosystem and support functions have witnessed a change.
We have to work hard on training programmes regularly and certain team building activities to build up the motivational level. We are following this at Recruise too.
How can companies prepare their workforce for the possible third wave of Covid19?
If the Covid third wave is going to happen, I don't think it is going to cause a big impact on the work environment. This is because most companies have already planned this entire year to be a hybrid model of working from home.
Initially, when there was talk around making work from home as a hybrid model, we conducted a lot of research and report on how the industries are adopting the model. However, by the time the companies started looking at implementing the model, the second wave of Covid19 hit the country. Now the strategy is to continue the existing model and not considering coming back to the offices immediately.
What are the new rules of employee performance evaluation and appraisal in the new normal where many are working from home?
Employee performance evaluation and appraisal are changing. How the engagement is happening with a client or with a particular project and how an employee has adapted to the current situation are the major elements that will be considered.
There is a need for some guidelines on a larger perspective to assess an employee's performance. Proactive, creative initiatives to enhance the work process/improve the engagement with the client must be taken.
How do you define the work culture in today's context given that the majority of workers are working from home?
Work culture is at a critical point at present as employees are working from home and are not meeting other colleagues. It is important now how we cultivate it. How to add new elements/fine-tune the existing work culture is something to be worked on.
For example, how to make meetings more efficient and how to bring in flexibility and trust without cameras monitoring (as opposed to a closed-cabin setting) in the long term. While hiring, elements of trust, reliability, self-motivation are considered. Self-management is also important for gone are the days when a manager would tell you what needs to be done. The focus is on the individual taking ownership and working on various activities.
Tell us about a career in human resource management especially during the pandemic.
There is a growing demand for the right resourceful candidate in India. Hence, hiring, talent management, training, compensation and benefits have become crucial. There is also a lot of demand in the HR industry. We too are proactively going out, talking about HR as a career with Recruise Wagon which we created as an initiative to raise awareness for people coming into the industry. The seriousness which was not present earlier is now seen in the Human Resources industry. People are showing interest in having a serious career in HR, this is good for the sector. As HR professionals, we add value by ensuring there are the right people at the right position with the right compensation standards, along with learning, development and concepts in place. HR is a huge industry and it is going to grow further.