Rajesh Krishnan Joins Bajaj Allianz Life Insurance as chief- Operations & Customer Experience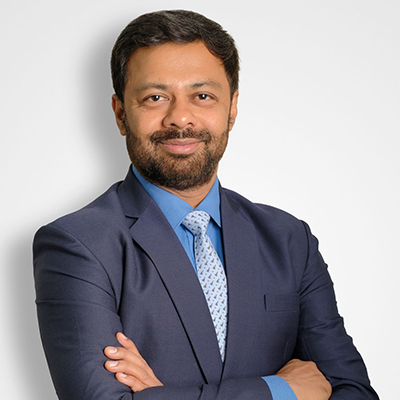 To further enhance the customers' experience with the brand, and strengthen its transformation journey via seamless processes, Bajaj Allianz Life appoints Rajesh Krishnan as its new Chief Operations and Customer Experience. He will be responsible for enabling the brand build on its customer obsession journey through various strategic interventions and initiatives at the front and back end that will continue to strengthen the company's business performance.
Speaking on the appointment, Tarun Chugh, MD & CEO, Bajaj Allianz Life, said, "Customer centricity is at the core of our organization's transformation journey, and we are delighted to have Rajesh on board to continue to strengthen every aspect of our promise to the customer and all stakeholders. I'm confident that his rich experience will help us drive enhanced synergies to achieve deeper stakeholder engagement, through best-in-class processes built to deliver safe, secure and seamless experiences across the board."
Rajesh is a seasoned BFSI specialist with over 25 years of experience in leadership roles. In his previous roles, Rajesh spear-headed several key projects to ensure last mile delivery of customer delight, and achievement of business goals. He has worked across leading brands including ICICI Prudential Life, HDFC Bank, ICICI Bank, Thomas Cook etc. Prior to Bajaj Allianz Life, Rajesh was the Chief – Customer Service & Operations at Pramerica Life.
Commenting on his appointment, Rajesh Krishnan, Chief Operations and Customer Experience, Bajaj Allianz Life, said, "I'm excited about my role and the opportunities it presents as the company continues its transformational journey. The teams are focused to ensure we set new and higher benchmarks in the industry on customer experience. I look forward to an enriching experience with an organization and its people who are focused on delivering excellence at every step."
Rajesh is an alumnus of INSEAD Business School and has a PGDBA certification from Symbiosis. He is also a Certified Associate of Indian Institute of Banking and Finance, and a Licentiate from Insurance Institute of India.
About Bajaj Allianz Life Insurance Company Limited
Bajaj Allianz Life is one of the leading private life insurance companies in India. The Company is a partnership between two powerful and successful entities in their own right – Bajaj Finserv Limited, one of India's most diversified non-banking financial institution and Allianz SE, one of world's leading asset manager and insurer.
Commencing its operations in 2001, Bajaj Allianz Life has in less than two decades expanded its presence across the country. It serves millions of customers through its 509 branches, 96,000+ agents (as on 31 March 2022), and comprehensive set of trusted partners and via its online sales channel. The Company's brand promise of Life Goals Done drives it to launch innovative insurance solutions, including the revolutionary RoMC (Return of Mortality Charges), a feature in some of its new-age ULIPs, and thereby becoming the first company to do so. Bajaj Allianz Life has constantly transformed to offer tech-enabled state-of-the-art services to enhance customer delight. The Company continues to engage with customers through several unique platforms, and has secured a place in the Guinness Book of World Records with the Bajaj Allianz Life Plankathon 2020.