One Day at IIMB goes virtual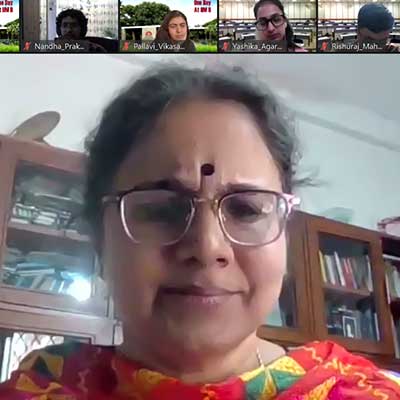 12 MARCH, 2021: Vikasana, the social impact club of the students of the two-year MBA programme at IIM Bangalore, hosted the 9 th edition of 'One Day at IIMB' on March 7 (Sunday). The virtual event drew participants from across the country who got a glimpse into the life of an MBA student at IIM Bangalore.
The day began with a virtual campus tour, followed by lectures by IIMB faculty, interaction with a few of the school's alumni and a session on cracking the Common Admission Test (CAT).
Professor Vasanthi Srinivasan, faculty from the Organizational Behavior & Human Resources Management area, Dr Rakesh Godhwani, adjunct faculty from the Communications area, and Dr Sai Chittaranjan Kalubandi, from the Strategy area, addressed the participants.
Highlighting the impact of COVID-19 on work and life, Prof. Vasanthi Srinivasan spoke of skills which the workforce would need to stay relevant. Dr. Rakesh Godhwani centred his presentation around 'Communication and Confidence for Young Leaders'. Dr. Sai Chittaranjan Kalubandi engaged the participants in a case-solving session. This gave them an insight into the teaching pedagogy at IIMB.
Rishi and Trishna, PGP1 students at IIMB, conducted the 'Cracking the CAT' session, where they spoke of their preparation for CAT. They also guided the participants about the WAT and PI process. he proceeds from the registration for the event will be donated to 'Sparsha Trust', an NGO working towards children's education and development.