New Delhi Institute of Management – Not Just an Institution but a Legacy | Dr. V M Bansal | Chairman | New Delhi Institute of Management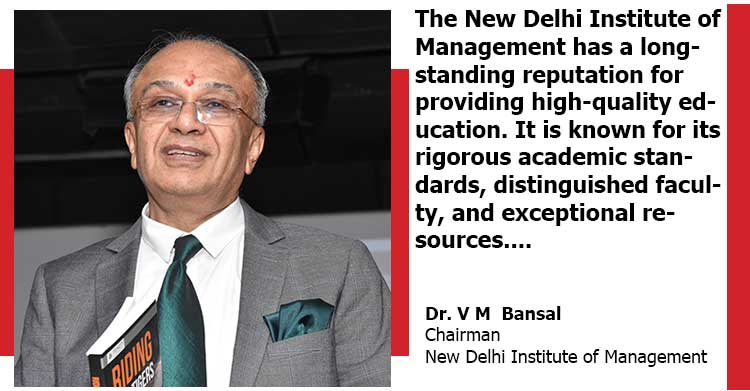 The New Delhi Institute of Management has a longstanding reputation for providing high-quality education. It is known for its rigorous academic standards, distinguished faculty, and exceptional resources. The institute offers the best industry-led MBA in the country and has been awarded for the same on May 23rd 2023 by the leading apex trade association of India, ASSOCHAM. The 1st and the only Mentor B-school in India has a deep-rooted connection with the top-most leaders and recruiters in the Industry and Academia. The C-suite executives and founders of top multinationals and several unicorn startups have expressed growing interest in NDIM, both in engaging with the students and harnessing new opportunities with the institute. Many serve as mentors with NDIM and regularly support faculties in curriculum development.
The curriculum of NDIM is reviewed by the industry every six months.
NDIM consistently maintains high academic standards across a wide range of disciplines. Its faculty members are leading experts in their respective fields, and the institute offers rigorous and comprehensive programs of study. The institute attracts some of the brightest and most accomplished professors.
The placement record of NDIM is exceptional and has scaled to new heights in the last couple of years, with good packages being offered to the top students. 90% of whom get placed by the end of the third semester. NDIM has been continuously declared the "Best Industry Linked B-School of India" for 3 years by AICTE, Govt. of India, and the Confederation of Indian Industry.
There are specific reasons why NDIM's placement record is outstanding –
 Every student at NDIM is groomed to take entrepreneurial decisions even while working in the corporate world. They are taught to adopt a mindset that embraces innovation, creativity, and calculated risk-taking. One-to-one personal grooming & hand-holding of every student makes our students from diverse backgrounds very happy & comfortable here.
 Tech-enabled MBA. NDIM's tech-enabled MBA program incorporates technology throughout the curriculum, leveraging digital tools, software, and platforms to enhance learning.
 The students are provided with more than 400 hours of soft skills training.
Speaking of soft skills, 40% jobs in the world are won or lost because of lack of soft skills. NDIM being one of the intellectual hubs of the country, grooms its students to be the finest professionals.
At NDIM, access to job opportunities is provided through Corporate Resource Centre. The institute has an Institutional tie-up with Internshala.com for students' real-time access to internships and job sites across the country. In addition, partnership with AIESEC – Global NGO and AIT has provided access to internships and jobs in several countries. Sought-after job sites are open to students and do not require an institutional subscription.
NDIM's extensive alum network spans the globe and includes some highly successful corporate leaders and entrepreneurs. The strong alums and external corporate mentors' base supports students in their placements, internship, trainings, consultancy, collaboration, curriculum etc. NDIM has a record of 97% placements with the remaining 3% opting for startups and entrepreneurial ventures and a strong network of 7000+ alumni and 354 corporate mentors, and 130 Academic Advisors. The alumni of NDIM have chapters in different cities. They meet, greet, network every few months. Some have even collaborated on potential opportunities. They also offer extensive support to the ongoing batch of students by mentoring them.
Another strength of NDIM is its diversity. The institute attracts students from all across the country, representing diverse backgrounds, cultures, and perspectives. The institute actively seeks to enrol students with various socioeconomic statuses, and experiences.
The 'Beyond the Campus' experience of NDIM students strengthens their understanding of what's happening around the world. The institute regularly sends the students to conferences and events at all the important business chambers CII, FICCI, PHDCCI, ASSOCHAM, NHRDN, and other national and international forums. They recently met the President of the United Nations General Assembly.
Some highly eminent dignitaries have graced their presence at the NDIM campus. Former Prime Minister of India, Shri Manmohan Singh, former President of India, Late Shri Pranab Mukherjee, and former Vice President of India, Shri Venkaiah Naidu, have blessed NDIM students on various occasions. Some of the top industrialists such as Sunil Bharti Mittal, Founder and Chairperson of Bharti Enterprises; Ajay Piramal, Chairman of Piramal Group; Binny Bansal, Co-founder of Flipkart; Nirmal K. Minda, Chairman & Managing Director, UNO Minda; Arvind Lal, Chairman, and Managing Director, Dr. Lal Path Labs; Subhash Chandra, Chairperson, Essel Group have extended their support in mentoring NDIM students.
The institute maintains strong partnerships with contemporary institutions worldwide, fostering international collaborations and providing global opportunities for students and faculty to exchange academic perspectives. Best international faculty, those who are leaders in their respective fields, visit NDIM regularly to teach specific subjects and take up full modules. In 2018, NDIM spread its wings to East Asia by establishing the Japan Centre of Excellence. The centre has brought top renowned Japanese organizations like Asahi Kansei India, Hakuhodo India, Uniqlo, Daikin India Pvt Ltd, Pasona, Sony India Pvt Ltd, Dentsu X to the campus. In addition to this, out of 10,000 colleges, NDIM is the only college privileged to host Japanese Native professor due to its warm relations with the Japan International Cooperation Agency (JICA).
The success and wide recognition of the Japan Centre of Excellence have also paved the way for the Korean Centre of Excellence, which opens an entire stream of opportunities for the students of NDIM. Even though the institute formally launched its Korean Centre of Excellence during its 30th Founder's Day, these initiatives are a result of the management's years of hard work and robust industry collaboration. Speaking of which, NDIM has also recently collaborated with the Australian Risk Policy Institute (APRI) to establish the 1st Ever Asian Centre for the Global Risk Policy Network ("ACGRPN") to deliver ARPI's Strategic Risk Policy® educational programs in the Indo-pacific.
NDIM's Tech-enabled MBA infuses technology into academic learning to provide future leaders with the right concepts, models, and tools to help them analyze large datasets, conduct statistical analysis, and visualize research findings. New Delhi Institute of Management has extensively included AI, AR, machine learning, blockchain, and related technologies in its PGDM curriculum. NDIM is the only B-School that hosted "Smart India Hackathons" for four consecutive years due to its state-of-the-art digital and AR-VR labs.
Of the many key initiatives, the institute understands its responsibility to be an environmental steward and demonstrate leadership in addressing the pressing issues of climate change and ecological degradation. It has committed itself to sustainability and has implemented various initiatives. REPA-NDIM Centre of Excellence in Renewable Energy regularly conducts research on sustainable practices. The Centre offers modules on renewable energy paradigms and their impact on business practices. The first 'Future of Energy 2050' Conclave was organized at NDIM on 16th October 2018 with the participation of global business leaders. Now, this continues to be an annual feature at NDIM, with students leading sustainability efforts across industry sectors as part of their industry readiness.
Women Empowerment Cell (WE Cell) is a unique feature of NDIM. It has been created to empower women in the country and to build teams to execute social entrepreneurship. Currently, 145 male and female students are working on 12 different social projects to uplift society and moving towards accomplishing various goals to promote and lead Women's Empowerment and Social Entrepreneurship.
The New Delhi Institute of Management is not just an institute but a legacy that is committed to social progress and public service. NDIM's continued pursuit of excellence upholds this legacy, its dedication to fostering knowledge and innovation, and its impact on education and society.