NAVIN's Organizes COVID Vaccination drive To All Its Employees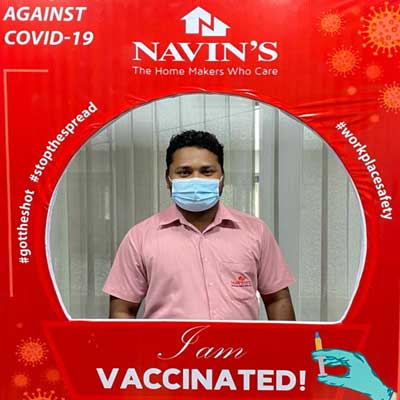 Keeping employees' health and safety on priority, Chennai's most trusted and respected real estate developer Navin's organized COVID vaccination drive at its campus in Nandanam, Chennai.
Commenting on the occasion, Mr. Navin Kumar, Director of Navin's said "Employees are the pillars of our rganisation and it is our sole responsibility to support them during these tough and unforeseen times. We have initiated an extended vaccination drive for our employees and their Families in order to provide seamless and safe inoculation. With focus driven on employee's health and wellbeing, we have carried out all possible preventive measures to ensure the safety of our employees and our visitors."
During these testing times, the company has stood by the employees as a moral pillar of support. Navin's has been offering health insurance cover for its employees under the Group medical insurance (GM) and Group term life insurance (GTL), and has also curated various employee wellness initiatives like 'Coffee with boss', 'Wellness days' including yoga and calisthenics in their everyday routine, etc., that fosters a sense of belongingness and a strong connect.
About Navin's
Navin's believes that building homes is an art, and an exercise of intellect, precision, and passion. Since 1989, the motto of the organization has been to achieve the culmination of architectural brilliance and the highest value-for-price paid in its projects. Over 120+ projects dot Chennai's skyline that stand testimony to a passion called Navin's; and the long journey that intertwines a cherished dream – to be the most trusted builder. The organization was the first in Chennai to receive the ISO 9001-2008 Certification, and now upgraded to ISO 9001-2015 and bring to the table, clear titles, excellent locations, quality products, perfect constructions, strict adherence to rules and regulations, care for customer needs, and above all, ethical business practices.