L&T Infotech is proud to support – Erin Kondoor proves that cloud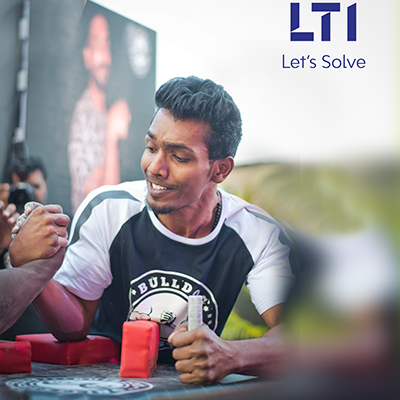 Erin Kondoor, a young cloud engineer from LTI Bangalore, won a silver medal in the Indian Armwrestling National Championship in Goa from the 17 th to the 20 th of May 2022. He will be representing India in the Asian and World Armwrestling Championship 2022. This blog explores what it takes to become an arm-wrestling champion.
Erin grew up in Nagpur, Maharashtra, where he picked up arm-wrestling accidentally. As a teenager, he used to see his fellow students engaging in this sport after school. He saw a few images in the newspaper related to the sport and got interested in it early in life. His small-town couldn't offer him professional coaching; therefore, he self-taught himself all the intricacies of the sport by watching videos of international arm wrestling champions on Youtube. Erin has been training since 2010 and has won several state and national-level championships. He now claims that he is addicted to the sport.
Erin calls it an addiction, but we call it pure passion. Otherwise, why will someone dedicate 3 to 4 hours daily, train 6 days a week, make personal sacrifices, and remain under a strict diet, even when this sport is yet to be recognized by the Indian government. There are no monetary gains, no brand endorsements, no recognition, and no sponsors. It is unfortunate that athletes in this sport hardly receive anything apart from the adrenaline rush at the arm wrestling table. Erin lost a few international opportunities despite qualifying for those championships in the past as he couldn't garner sponsors in time. When LTI decided to sponsor his Asian championship, he was elated. LTI is proud to support Erin Kondoor for the IFA Asian Arm Wrestling Championship, which will be held in Selangor, Malaysia, from 16 th to 20 th June in the 78 kg Senior Men category. Erin will be representing team India and is one of the two shortlisted candidates participating in the tournament from our country.
Managing work and personal commitments requires a lot of discipline and determination from Erin. He wakes up at 6 am to ensure he gets a few hours in the home gym before leaving for work. At work, he tries to be as productive as possible, ensuring that all the tasks assigned to him are completed within office hours. He doesn't take a lot of breaks at work and tries to wrap up tasks on time to return home and follow his training schedule. His wife is highly supportive. They often catch up on life while he trains in his home gym. He set up a home gym to save travel time and to remain focused while he trains.
Training the arm muscles isn't easy either. It takes years of practice to develop every small muscle fiber that collectively works together to create the strength required for this sport. Erin plays with both his left and right arm. He used to play only with the right arm in the past but realized that playing with only one arm might cause muscle imbalance and lead to spondylitis. There are two types of arm wrestling – hook player and top-roll player. Erin can play both styles.
Arm wrestling is a fight, like boxing and MMA. It is not just a strength sport like powerlifting and bodybuilding. An arm wrestler must prepare like a fighter, developing technique, strength, and consistency to excel in this sport. This sport is like martial arts for the arms, so he must be physically and mentally strong to endure extreme pressure when facing an opponent and be prepared for adverse outcomes. For example, his arm might break during the competition, or he might suffer from the emotional trauma of having caused injury to someone else. Opponents might yell and scream at him to make him lose his defenses. And that's where he has to be mentally strong and stay positive for the entire duration of his competition. An arm-wrestler also needs to develop humility, to accept that he is an average person who cannot engage in violence beyond the arm wrestling table. Erin reiterates that with power comes responsibility.
Erin now dreams of winning an international championship after his national victory. His major upcoming international tournaments are the Asian championship in Malaysia in June and World Championship in France in September. We wish Erin great success and hope to see him make India proud. Erin feels that this sport will come to the fore if athletes like him can try to win more international tournaments. The Russian government has recognized this sport. And in the coming years, other governments will likely do the same. In India, a few state-level teams like Kerala and Assam provide excellent coaching to their athletes, and they already have a few international-level arm wrestlers. Erin feels that he could have done better if he had the option of training with a professional coach when he started. Yet, with his efforts, he has come this far.
Erin is a fine example of no guts, no story. His grit and determination have made him a national champion today. What an average Indian only dreams, he has achieved! He is an engineer by the day and an arm wrestler by the weekend. We at LTI celebrate our employees and their hidden talent. We are proud to have Erin, a national arm wrestling champion, amongst us.