Job Search Secrets (Master the art of getting job}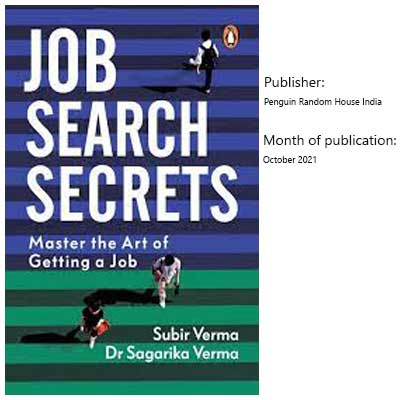 The biggest problem our country and society is facing is the large amount of unemployment. India has over 5 crores educated unemployed youth. Every year more than 50 lacs educated youth gets added into the list. Educated youth is frustrated, dejected and lost hope as even professionally qualified youth who have engineering, management, graduate degrees also are not getting job. The situation is go grim that highly educated people are taking up odd jobs.
On the other hand, companies always have the complaint that they are not getting "right talent". They have vacancies but not able to hire. When there are crores of educated youth are available, why companies are not able to hire? Where is the gap? Companies have resources to hire talent. But, crores of youth need help to find employment.
The biggest gap is that job seekers search job based on what they need rather than what companies want. The recent book released by India's top publisher Penguin India "Job Search Secrets – Master the art of getting the job" has come at the right time. The book is written by two human resource experts, Subir Verma and Sagarika Sahu Verma. Subir Verma works as Chief Human Resource at Tata Power DDL and Sagarika is a CEO of an edutech company.
"I feel the pain when I read in newspaper that for one vacancy for the post of peon, thousands of people including highly educated who have completed MBA, Engineers and even PhD have applying". Then we thought to find a way to help such youth to make them know everything related to how they can find job. This book is an effort to help these educated unemployed youth", says Subir Verma.
This book is an effort to bring all aspect of job search at one place with various supporting tools to provide complete theory and practice to all to master the art of searching a job. There are many free tools shared in the book which can be used for practice which can give result in shortest possible time.
"Not only what one needs to do, but how to do it, sample script, how to practice and implement are what has been shared in details in very simple and easy to understand language", say Dr Sagarika Sahu Verma. Job seekers have qualification, skill but they are not to effectively use them during their job search and interview.
The book covers practical approach of job search which every job aspirants should know with the sole aim of getting the job faster. Starting from how to choose a right career, how to find hidden job, how to find people who can help in finding job and build long-time relationship with them, what to do to crack campus, virtual and other interviews, salary negotiation, using social media to find job and many such tips. Each chapter has practical tips with examples of real students and job aspirants for each one to relate and use. For each of the area, free tools, exercise have been recommended which anyone can use without any cost seating at home.
There is a general perception that you need to relocate to bigger cities then only you can get job. There are so many single child or girl child cannot relocate due to various reasons. What will they do? The book has answer to many such issues faced by candidates and offer solutions. For example, use of social media and job portal to find job and also use then in such way that job as per your choice will come to you every day. This not only saves time but is convenient for all" say Dr Sagarika.
Not all job are advertised. In fact, more than 50% jobs are not advertised by companies and they recruit thought other channels. Now, students or job seekers are missing half of the available job if they do not know how to reach them.
The book has received excellent respond from not only students, job seekers and working professionals but also industry senior professionals. "Job searching can feel like an overwhelming and daunting task. Job descriptions have vague language and hidden meanings, and job sites feel like an endless amount of pages of jobs you didn't know existed. This book is an insightful and practical guide for finding the right job and nailing your application every step of the way. Read this book and find your dream job!" says World's top management Guru and New York Times #1 bestselling author of Triggers, Mojo, and What Got You Here Won't Get You There Marshall Goldsmith.
Mr Amit Malik, CEO & Managing Director, Aviva India has highly recommended this book for all students and job aspirants. He adds, "thousands of talented people struggle to land deserving jobs for their lack of understanding of how the job market and the interview process works. The book therefore becomes extremely relevant- both for first time entrants to the job market and those who are looking to make a mid-career switch. I hope more and
more people read the book so they can crack these Job Search Secrets and achieve their true potential".
Senior industry professionals like Jayakumar, Group CHRO – L&T,  Mr SV Nathan, Partner and Chief Talent Officer, Deloitte India, Mr Amit Das, Director- Human Resources, Bennett, Coleman, Mr Prem Singh, President, Group HR, JK Group, Pradyumana Pandey, CHRO – Mother Dairy, Ms Kavita Dasan, CHR) – ABP Network and many others have said that this is an start to end approach for job search and a must read for all students, job aspirants and working professionals.
We have taken on us to help millions of job aspirants and want it to be read by all and taking this more of a social cause, help each job aspirants find job now and build a skill for now & future which is not taught in any school and will help life long. The royalty of the book is pledged to Nesa Foundation's Food for needy program. The book is available on amazon.in, flipkart.com and leading book stores across the country.
About Authors:
Subir Verma
Subir Verma is an engineer & Management post graduate from XIM, Bhubaneswar with 23 years of experience at senior positions in Human Resources at Tata and Reliance. He is currently Head HR, IR & Medical Services at Tata Power DDL.
He has authored many articles for The Times of India, Indian Express, Hindustan Times, Competition Success Review, Silicon India, HR Katha, Business Manager, Silicon India and magazines. He has been conferred with People's Champion of the year by Business World in 2020, CHRO of the year 2019 by World HR Forum, HR Leader of People's choice by Business World for year 2020, Best TA Person by Hindustan Times and Power of Idea Winner by The Economic Times.
He is on CII's Committee of Industrial Relation, Advisory Board of ISM, Patna, TM University (UP) and advisory board for Atal Innovation Committee (Nalanda) under Start up India program of Government of India.
He can be reached at subirverma99@gmail.com / Subir.verma@tatapower-ddl.com / +91 90299 53555
Dr Sagarika S Verma
Dr Sagarika Verma is a serial entrepreneur. Dr Sagarika is a Ph. D and MBA with over 20 years of experience as entrepreneur and corporate in the area of Human Resources & Consulting. She has been associated with prestigious companies and institution like ICICI, Indian Institute of Management (Indore) and Indian Institute of Technology (Kharagpur). She has also been associated with UNDP, National Association of Disabled's Enterprises and Indian Development Foundation, Mumbai (NGO working towards Leprosy Elimination and TB Control)
Dr Sagarika Verma's achievement have been covered by leading print and electronic media of India like, The New Indian Express, Doordarshan, Dainik Bhaskar, The Samaj. She has been writing regular career related articles for The New Indian Express, The Samaja, UK based portal.
She can be reached at sagarikas99@gmail.com / 9029945888
---
Link of amazon.in for reference:

4563783&sr=8-1
Link of Flipkart for reference:
https://www.flipkart.com/product/p/item?pid=9780143453079
Link of penguin for reference:
https://penguin.co.in/book/job-search-secrets/
---