India's Biggest Virtual Career Fair for Women Returns: Careernet's 4th Edition Set to Take Place on May 13, 2023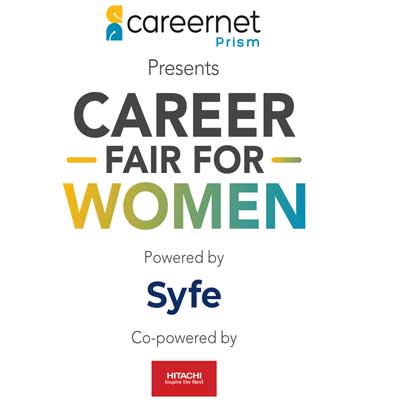 Careernet, India's leading talent solutions provider, announced the 4th edition of its Career Fair for Women, a virtual career fair under the aegis of Careernet Prism, taking place on 13 May 2023, from 11:00 AM to 2:00 PM. Slated to be India's largest virtual career fair for women, the event is expected to witness participation from over 1,000 female professionals.
Careernet Prism, an initiative of Careernet, aims to help employers build inclusive workplaces with diverse talent. The event with this year's theme of 'Margins to Mainstream: Women Accelerating Equity' will provide women across the country an opportunity to connect with some of the best employers in the industry. The virtual fair aims to empower women and bring equity to the workplace and is set to attract more than 700 women from intersectional diversities.
Participating employers in the 4th edition of this annual career fair are Sandvine, Priceline, Societe Generale and Cornerstone, seeking women candidates in both tech and non-tech roles. This event is a unique opportunity for women from various educational backgrounds, Persons with Disabilities (PwD), Armed Forces Veterans and the LGBTQI+ community who are looking at lateral entry swaps or those returning to work after a break.
"To combat the lack of female talent in the higher rungs of the corporate ladder, companies and advocates of change must take proactive steps to promote inclusion and ensure proper recognition and integration of female talent starting from the bottom and mid-levels. Companies that embrace diversity and ensure that female talent is rightfully acknowledged and welcomed will thrive in the long run. For the career fair, we have cherry-picked companies that understand the challenges faced by women at the workplace. This event offers a direct platform to connect talented women from diverse backgrounds with companies that provide equal opportunities. Our aim is to strengthen existing workforces with more and more women and promote equity as a standard norm across all industries." explained Mr. Anshuman Das, CEO and Co-founder of Careernet.
He added, "The Career Fair will act as a solid foundation for women to flourish, advance in their careers, spread their wings and reach new heights in their careers. At Careernet, we are committed to addressing the long-standing challenges of diversity, equity, and inclusion through our D&I solutions, Careernet Prism. Prism endeavours to help employers create inclusive workplaces with greater and more complex diversity. We are confident that this year's event will pave the way for greater opportunities for top female talent."
The event is supported by community partners, the NASSCOM Foundation, SignAble, Spectrum of Inclusion, TALMS and Win Vinaya Foundation. These organisations share our vision and are simultaneously striving for equity and dignity of various diversities at the workplace.
The job fair also features several informative sessions and has something in it for everyone. The keynote address, titled 'Advocacy and Collaboration in Accelerating Equity for Women,' will be delivered by Ms Nidhi Bhasin, CEO of NASSCOM Foundation. The panel discussion, 'Margins2Mainstream – Women Accelerating Equity,' powered by NASSCOM Foundation, promises to be an interactive session featuring leading industry experts and thought leaders.
The virtual employment fair offers more than 60 job possibilities from participating employers exclusively for women professionals. Some of the positions that will be available to the applicants includes Software Engineer, Data scientist, Cyber Security, .net Developer, Business Analyst, Senior Analyst, Product Manager, Control Assurance, Ruby on Rail, DevOps, Cash Management, DevOps Architect, QA Engineer, Finance Analyst, SDET, Finance Operations Analyst, Technical Support, Full-Stack Developer, Pentester, HCM Integration, Product Specialist, IT Engineer, ReactJs, Backend Developer, Sales Engineer, Strategy Consultant, Senior Accountant, Systems Analyst, TECH Data Engineer, Java Developer, System Architect, Lead Analyst, Talent Operations Partner, Legal Counsel, TECH Manager, Marketing Manager, Technical Support Engineer, Network Engineer, and NOC Operations Specialist.
To register for the event, visit https://events.mycareernet.in/careerfair-for-women/.