Indian Institute of Management Sirmaur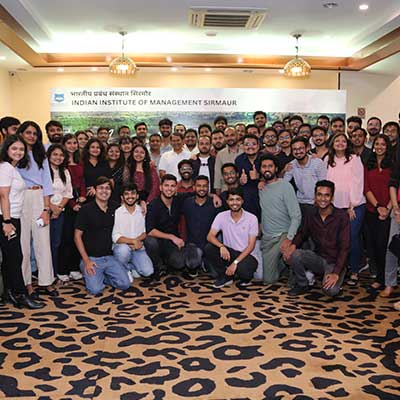 Indian Institute of Management Sirmaur organized its second alumni meet on 30.07.2023 at the prestigious Mumbai Cricket Association compound in BKC, Mumbai. The event brought together more than 100 alumni from seven batches, creating an evening filled with celebration, nostalgia, and reunion. It proved to be a significant moment in fostering unity and progress within the close-knit IIM Sirmaur fraternity.
The event kicked off with an inspiring address by the esteemed Director of IIM Sirmaur, Prof. Prafulla Agnihotri, who eloquently highlighted the remarkable growth and achievements of the institute over the years. His speech aimed to motivate the alumni by emphasizing the vast potential and opportunities that lie ahead. He mentioned the institute's strategic initiatives, such as MoUs with Organizations like HPCL and NSE. The Director expressed optimism about hosting the alumni at the permanent campus in the near future, further strengthening the bond between the IIM Sirmaur family and realizing the dream of elevating the institute among the top b-schools.
Taking the stage, the Chairperson, Alumni Relations Committee, Dr. Vikas Kumar, expressed immense pride in the accomplishments of the IIM Sirmaur alumni. He stressed the significance of the alumni network in fostering continued growth and collaboration. Dr. Kumar acknowledged the alumni's role as the flag bearers of rigor and the culture of IIM Sirmaur and assured them of the institute's unconditional support. The success of the Mumbai Alumni Chapter Meet of IIM Sirmaur clearly demonstrated the institute's commitment to nurturing a vibrant alumni community.