Inclusivity is key to TimesPro's growth | Brillian S. K.|Chief People Officer & Mentor Operations| Times Professional Learning-A division of Bennett, Coleman & Co. Ltd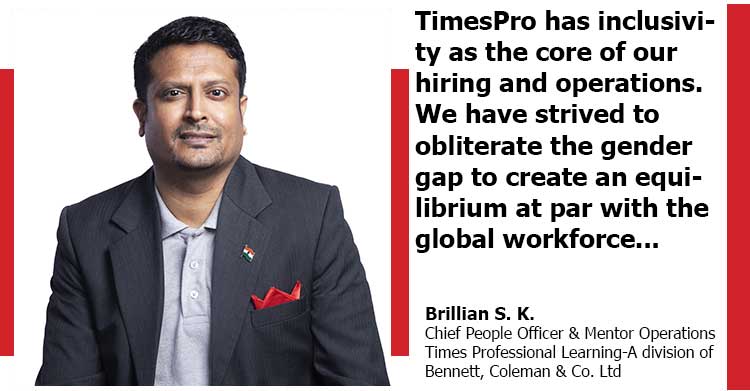 TimesPro has inclusivity as the core of our hiring and operations. We have strived to obliterate the gender gap to create an equilibrium at par with the global workforce. We are committed to enhancing our goals to follow the mantra of providing a gender-balanced and inclusive workforce across all levels in the organisation with a firm belief in being an equal opportunity employer. Despite the global crisis, we are among the few EdTech companies that have been actively recruiting talent and have regularly hired even during the pandemic.
TimesPro has been working on a strategic increase in representation of women in leadership roles. We have facilitated their return to the workforce post a sabbatical or career break by hiring a significant number of women. As an equal opportunity employer our focus has been on leveraging skills and positive attitude for work. As part of the International Women's Day celebrations this March, TimesPro rolled out 'Second Innings' – an initiative for women on break to re-join the workforce. To give this initiative a fillip, we have partnered various not-for-profit organisations like 'ReBoot Her' – a platform committed to hiring women who have taken a sabbatical back into the workforce. Several outreach programmes have led us to maintain a consistent 40 per cent of women
participation with 30 percent in senior leadership positions.
These initiatives proved to be a decisive factor in our growth story as this month we reached a significant milestone of doubling our employee base over the last FY. Our value-based working coupled with employee-first attitude helped us create a highly innovative and inclusive workplace.
TimesPro has also initiated mentoring sessions to groom next-gen women leaders and ensure that women are provided with the support to prepare them for future leadership roles. It has led to our women leaders driving both revenue and enabling function roles. The inclusivity in TimesPro is due to our commitment to consciously promoted a pay for performance and building equity regardless of gender. We take 'PRIDE' in conducting sensitisation sessions with staff and partners to generate awareness and understanding. One unwritten rule that is followed by everyone is respect for individuals including LGBTQ staff who are treated with respect, compassion, and dignity.
While we are a new-age and future-centric brand that boasts of a young, vibrant, and divergent employee base, there is nothing that can supplement experience. To provide an employee balance, we hired a few highly enthusiastic retired officers in various roles as Consultants or Subject Matter Experts to complement the exuberance of youth and are reaping the dividends of this unique blend.
We hire for skills, attitude and culture fit, affiliations to institutions / organisations have not prevented us from onboarding talent. Be it Tier 3, be it return to work, be it retired staff, we welcome everyone to our family. As a hiring principle to bridge the Tier gaps, TimesPro has done away with the criteria such as Grade of Colleges, Ranking of the University, Metro cities, etc., to provide opportunities to graduates and skilled professionals. We believe in creating a fair ecosystem that aids in the sustainable growth of our human resources and boosts their autonomy while emphasizing effort, attitude, intent, and outcome.
Inclusivity is a way of life for us at TimesPro and will continue to be as we build the future – faster, farther together.