Inclusion of Persons with Disabilities at the Workplace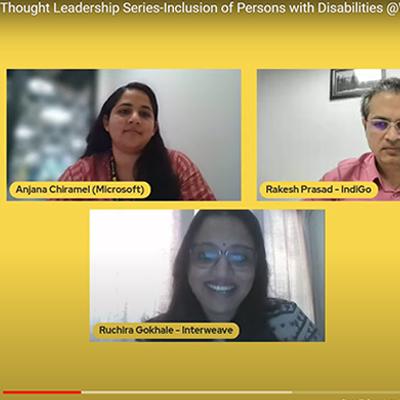 Leading Diversity, Equity & Inclusion (DEI) firm Interweave Consulting in collaboration with Social Equity Advisory Services has organized a first-of-its-kind thought leadership series on "Inclusion of Persons with Disabilities at the Workplace". The unique event is aimed at showcasing practical insights, thought-provoking sessions and challenges on varying aspects of DEI. The thought leadership series will host events featuring interactive panels of experts, policymakers and corporate leaders.
The thought leadership series has hosted sessions focusing on the mandate for private sector organizations, as per Rights for Persons with Disabilities 2016 (RPWD 2016) and its implications. It will also lay emphasis on the importance of people readiness, accessibility, accommodation, and employee resource groups in building an inclusive workplace. It will further highlight the role of technology in the inclusion of people with disabilities. It will also be aimed at motivating the organizations that are still considering embarking on the journey and providing important insights to the organizations, that are already on this path.
The speakers for the 22nd of September are Aradhana Lal – SVP Sustainability & ESG – Lemon Tree Hotels; Anjana Chiramel – Sr. HR Manager and HR Champion, Disability India ERG – Microsoft; Ranjit Jose – VP HR – Diageo; Rakesh Prasad – AVP HR & D&I Lead – IndiGo; and for 29th we have DEI Leads from organizations like ANZ, Sapient, Capgemini.
They will come together to share their experiences, insights, and best practices. It will showcase success stories of organizations who have implemented DEI policies and will share their disability inclusion journey and talk about the preparations, challenges and ways to mitigate them.
The thought leadership series is our attempt to bring together all the stakeholders including organizations, experts, policymakers and corporate leaders on a single platform for building a conducive and inclusive workplace for people with special needs. It is encouraging that companies are actively going ahead with the implementation of their DEI policies and strategies and the outcomes of this series will definitely provide them with a roadmap. Also, the thought-provoking sessions will help to create an action plan to help companies be more aware of issues faced by persons with special needs and come up with policies that best suit them.
Please find enclosed the brief of the speakers' conversation during the event -*
"Thought Leadership Series on Inclusions of Persons With Disabilities at the Workplace" – Interweave Consulting
Aradhana Lal – Lemon Tree Hotels
"At Lemon Tree Hotels we have a Strategically designed HR approach where in every new hotel they make sure to hire employees with disabilities on the basis of role mapping. Once an employee is hired they go through constant supervision and training session is arranged for them to learn Indian sign language and evaluation is done via tests. One major thing that we found during training found that treating disabled people as normal helps to boost their performance and enhances their capabilities giving them a sense of satisfaction."
Ranjit – Diageo
"A formal audit takes place which looks into minor things in terms of accessibility and after that, the changes are made for eg. Carpeting on which wheelers are easily managed, washroom accessibility etc. For the companies who wish to join this journey, first, there is no ideal journey, so you can start with and second analyze where the company stand in equity and responsibility and after that, they should proceed with hiring."
Rakesh Prasad- Indigo
"While dealing with disabled people one basic thing a company should start with is role mapping as there are a lot of places where they wouldn't have easy access. Second, constant training is a must, especially for the intellectually disabled. And finally try to create a conducive environment for them, since they are willing to work and put in the effort."
Anjana Chiramel – Microsoft
"We could build the infrastructure but if you don't have the right people who use it you will never know that it was put to use the right way. The actual way how disabled people live is far more different from what we perceive, which can be only found by talking to a disabled person. Lastly, a company should make infrastructure adapt to the person, not either way round."
Abha Saxena – Social Equity Advisory Services
"So before the RPWD act came in with the modifications in the incentive scheme, there was a lot of paperwork and less money but since the waving off and capping employees salary and extending the reimbursement timeline, I feel a lot of organizations should take this as an opportunity and explore by getting in touch with their disability commissioner's office of their state and region from which they will be able to get all the details."
Ankit Rajiv Jindal – Friends for Inclusion
"The RPWD Act expanded the definition of disability which was earlier categorized in 6 forms. There are some benefits for the companies that hire disabled people which help them motivate and give an opportunity to them."
Employers don't have to pay the 'Employer's Contribution' of the provident fund for the employees and the ESIC (employee state insurance) for people with disabilities. The policy was introduced in mid 2000'a but since it came with a lot of restrictions it didn't turn out to be quite futile for the corporate it was later revamped after it came into effect. I have seen many companies take on the new law but India is a complex country so we can say slowly it's warming up with this.
Thought Leadership Series on "Inclusion of Persons with Disabilities at the workplace" in association with Social Equity Advisory Services on 22nd September.
This was live on 3 platforms
Facebook – https://bit.ly/3UApQvd
LinkedIn – https://bit.ly/3xwXU1h
Youtube – https://bit.ly/3Uz1fXA
You can watch at any of the platforms above. Photos are in the trail mail (Attached).