How SMBs Can Benefit from an HRMS | Sayeed Anjum | Co-founder & CTO | GreytHR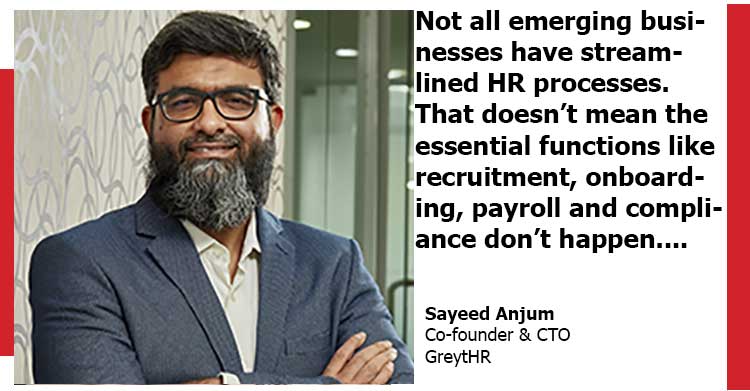 Not all emerging businesses have streamlined HR processes. That doesn't mean the essential functions like recruitment, onboarding, payroll and compliance don't happen.
In many small and medium businesses (SMBs), someone from finance/admin doubles up as HR and performs the tasks manually or with the aid of spreadsheets. Even if they do have a dedicated HR person, there is a possibility that the person has a high workload. This could result in inefficiencies and delays.
An HR software or a Human Resources Management System (HRMS) can help a business overcome many of the challenges. A business owner who chooses to deploy an in-house HRMS can anticipate a whole host of benefits. Here are some of the common ones.
Creating more bandwidth
Manual HR work is time-consuming. It keeps the HR folks perennially busy! An HRMS infuses higher efficiency into the HR processes by automating mundane and repetitive tasks in an organisation. When more processes are treamlined, more jobs get done faster. Hence, the team members would have ample time and energy to focus on tasks that are aimed at growing the business.
Simplifying Documentation
The HR department carries the onus of maintaining countless documents, files and folders to perform multiple tasks. If the department follows the physical documentation process, it's likely to face more complexities most of the time. Also, they would end up spending more time searching for information. An HRMS platform streamlines processes, automates functions and ensures easier compliance. The employee self-service (ESS) option allows new members to upload documents and fill out forms online.
Cutting unnecessary costs
Smaller businesses may not be able to employ a dedicated HR team or pay an external agency regularly. A cloud-based HRMS can be their best bet since it is effective, scalable and affordable. The platform will also enable digital documentation and automated workflows. Therefore, it helps eliminate expensive paperwork and minimises duplication and wastage. Moreover, the implementation of an HRMS also happens quicker when compared to an on-premise system.
Making employees happier
Onboarding complexities, payroll inaccuracies and documentation bottlenecks can demoralise employees during their journey in their organisation. Even the exit of an employee is as important as his onboarding. It's got to be hassle-free! Core HR and payroll automation can iron out these issues to a great extent since human intervention is significantly minimised. The employee self-service (ESS) portal/app can enable employees to find answers to most of their questions without reaching out to HR frequently.
Ensuring compliance
In today's dynamic legal landscape, small businesses might find it hard to complete their compliance formalities quickly and accurately. They need to maintain different records as per the various laws. There are scenarios where their staff might lack the know-how, and the company may not have access to timely legal advice. An HRMS manages all of this automatically and accurately so that the business owner or HR need not worry about legal issues.
Securing critical data
Every organisation collects and stores a considerable amount of Personally Identifiable Information (PII). High attrition and physical documentation can lead to data theft and misuse. Also, the legal implications can result in hefty fines and also tarnish the image of a business. All of this can hurt the organisation and its employees. An HRMS platform keeps all the crucial information on the cloud and provides controlled access to the staff. Some HR platforms, like greytHR, also have multi-layered encryption systems to protect the data.
Want to know how an HRMS can help simplify your HR processes and add greater value to your business? Visit www.greythr.com