HirePro partners with global learning leader Pearson to remotely monitor their English language assessments
The latest version of Pearson's world-famous Versant test will have remote monitoring from HirePro built in to add enhanced security and authenticity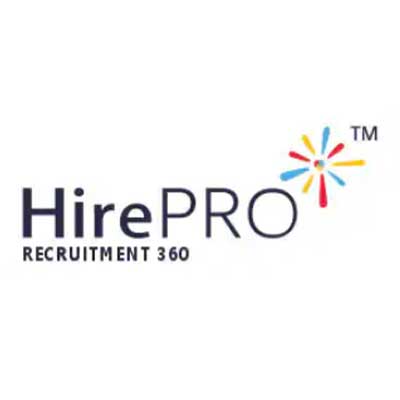 HirePro, leading recruitment technology and assessment solutions company, has announced a partnership with Pearson, the world's learning company, to automatically monitor and verify Pearson's Versant test. The tie-up allows candidates across the world to take their test remotely at any convenient location, even at home.
The integration of HirePro's unique automated proctoring technology with the test platform will enable employers to add more layers of security and verification to ensure they hire the most suitable candidates for their organisation. HirePro's proprietary AI algorithms will be integrated into the Versant test, allowing test sessions to be monitored and recorded through its Automated Online Proctoring. It also compares the test taker's face with the registrant's photograph or authorized ID card. The technology flags any suspicious behaviours during the
test to administrators for review.
Speaking on the occasion, Pasupathi Sankaran, Chief Operating Officer, HirePro, said "We are very excited about the partnership with Pearson. The latest version of the Versant test will help employers to conduct assessments remotely with precision, enable a convenient and faster hiring process and reduce the operational costs associated with in-person tests. As India's leading recruitment technology and solutions provider over the last 15 years, we have realized
the growing need for remotely monitored assessments. The global pandemic has led to a wider acceptance of this type of assessments. Built by a team of experts with over 20 patents in audio/ video technologies, our assessments platform offers test takers a superior experience and ensures automated detection and prevention of cheating."
Freya Thomas Monk, Pearson SVP of English Assessment said, "Pearson has kept pace with the evolving customer needs with our trusted online assessments, now brought into test-takers' homes via a great quality remote monitored solution. Recruiters and HR professionals have trusted Pearson's Versant tests for over 25 years to support their recruiting processes and make effective hiring decisions. We are proud to have partnered up with HirePro on our new Versant + Remote Monitoring solution, which offers the reliability of the Versant English tests with the
flexibility of secure offsite testing experience. This will enable corporations to expand their talent pool and advance only the most qualified candidates."
Pearson has administered 350 million tests across 100 countries since 1996. The Versant + Remote Monitoring can be taken worldwide, except for mainland China and sanctioned countries.
About HirePro
HirePro is a leading recruitment technology and assessment solutions provider to corporates, educational institutions, and governments. Established in 2004 and headquartered in Bengaluru, India, HirePro offers preeminent technology platform and allied services to companies that require expert support to navigate the talent landscape. As a distinguished provider of automated selection platform and solutions, HirePro holds the prominence of a strategic partner in the talent acquisition and recruitment market today. To know more about HirePro and its offerings, please visit www.hirepro.ai
About Pearson:
Pearson is the world's learning company with more than 22,500 employees operating in 70 countries. We provide content, assessment and digital services to learners, educational institutions, employers, governments, and other partners globally. We are committed to helping equip learners with the skills they need to enhance their employability prospects and to succeed in the changing world of work. We believe that wherever learning flourishes so do people. For further information on Versant + Remote Monitoring, as well as the wider suite of Versant tests on offer please go to www.VersantTests.com