Ground-breaking DEI Symposium Co-hosted by Liberty General Insurance & SHRM India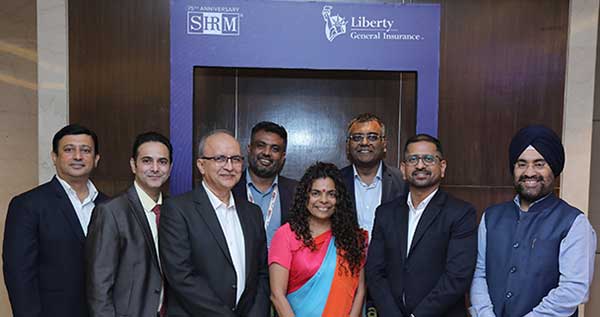 ---
From Left to Right (front row): Jerry Jose, CHRO, ICICI Lombard; Akhilesh Guleria, CHRO, Reliance General Insurance; Shailen Merchant, Head HR, Chola MS General Insurance Co. Ltd; Priya Vasudevan, President – Talent & Enterprise Services, Liberty General Insurance; Chinmay Adhikari, CHRO Universal Sompo GI; Vikramjeet Singh, CHRO Bajaj Allianz
Left to Right (back row): Saurabh Shyam -CHRO SBI General Insurance; Akshaya Kashyap – SVP HR- Future Generali India
---
Liberty General Insurance & the Society of Human Resource Management (SHRM) India jointly organized a symposium on DEI (Diversity, Equity, and Inclusion). The recent event saw convergence of esteemed CHROs from the General Insurance sector, emphasizing the importance of an inclusive future for budding talent.
Diversity, once a peripheral corporate consideration, has now been thrust into the limelight as businesses recognize its intrinsic value. This collaboration covered wide-ranging subjects including the catalytic nature of diversity in driving innovation, the intricacies of fostering an all-encompassing workplace culture, and the strategies to achieve a balanced gender representation. Through this symposium, both Liberty General Insurance and SHRM India are not merely championing discussions but are actively setting precedents for a more inclusive, equitable work environment where each individual is respected for their distinct perspectives.
Beyond its immediate scope, the event echoed the larger ethos of both organizations. Their commitment is evidenced by their consistent efforts in directing the industry towards a more vibrant, harmonious workplace ethos, which not only attracts but also ensures the retention of the industry's brightest minds.
Gender disparities, long-standing challenges in the General Insurance sector, featured prominently in the discussions. The nuances of these inequalities, from wage discrepancies between genders to the amplified career implications of work breaks for women, were analyzed. Additionally, the dialogue spotlighted the unconscious biases that persist, especially the masculine bias that often shapes organizational dynamics and policy decisions.
But the conversations weren't just about identifying challenges. They pivoted towards solutions, with leaders emphasizing the immeasurable benefits that can spring from genuine inclusivity. An inclusive work culture, as highlighted, extends beyond morale to drive productivity, business performance, and even innovation. Furthermore, leaders agreed on the transformative power of feminine leadership, its alignment with consumer needs, and its potential to foster sustainable, diverse thinking.
Speaking on the occasion, Priya Vasudevan, President- Talent & Enterprise Services, Liberty General Insurance said, "Diversity, Equity, and Inclusion are not just buzzwords; they are essential for the future we envision. Our collaboration with SHRM India underscores our commitment to creating an environment where every voice matters. As we tackle challenges in gender equity and inclusion, we're setting the foundation for a General Insurance sector that's more dynamic, innovative, and reflective of the world around us."
In a statement issued by SHRM, the organization stated, "As we share our similarities, we discover our common humanity, and by celebrating our differences, we strengthen our collective potential. SHRM India stands to support progressive DEI policy in every organization, fostering truly inclusive workspaces where diversity isn't just a process or policy but a default mindset, empowering individuals to contribute their unique perspectives and talents. With you, we can build bridges of unity and celebrate the beauty of diversity."
Expressing his views, Mr. Shailen Merchant, Head – Human Resources, Chola MS General Insurance Co. Ltd. said, "Searching for talent in either of the genders is going to limit the resource pool. It's not about equality in pay, opportunities, or the role at the top, but more about the larger canvas of employment and employability. Talent has no gender as when the sun rises it rises for everyone. "