From One-Size-Fits-All to Personalization: Corporate Wellbeing Strategy Undergoing a Paradigm Shift, States Human Edge Insights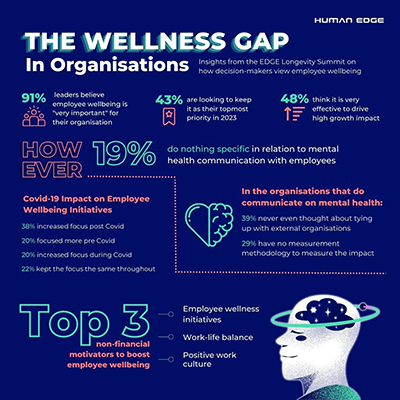 Human Edge, a longevity science company, recently successfully concluded the Edge Longevity Summit 2023. The summit brought together distinguished industry leaders, experts in corporate wellbeing, thought leaders, and industry
affiliates with the purpose of deliberating on the significance of employee health and wellbeing in fostering organisational growth.
The summit boasted an exceptional lineup of speakers, which comprised of esteemed figures such as Prof. Pramod Wangikar from IIT Bombay; Krushmi Chheda, Sports Scientist and Nutritionist; Kirti Carr, Consciousness Coach; Krushmi Chedha, Former International Tennis Player; Urmi Kothari, Energy Coach—alongside splendid host and curator, Shayamal Vallabhjee, renowned Sports Scientist.
The seminars were centered around the five critical pillars of health, i.e. Sleep, Fuel, Movement, Environment, and Emotions. The speakers imparted valuable insights regarding the vital role of each of these pillars in contributing towards one's overall wellbeing. The audience's favorite takeaway from the talks was the biohacks provided by our expert coaches for each of the health pillars.
Conversations also focused on the need for personalised solutions for employee wellbeing—especially ones that can create quantifiable results, and can be scaled to organisations of any size.
Following the dialogues during the summit and a dipstick conducted on-ground, Human Edge a few findings from the participants to gain a better understanding of the role of employee health and wellbeing in organisational success.
The insights indicate:
● A vast majority (91%) of respondents deemed it crucial for organisations to prioritise employee health and wellbeing.
● Furthermore, 76% of respondents acknowledged the significant impact that employee wellbeing has on organisational growth.
● Out of the total respondents, 62% conveyed the significance of health and wellbeing to their organization internally, utilising an in-house team of HR, psychologists, and counsellors. However, only approximately 24% of them communicated it externally, through workshops or training sessions.
● 14% of the respondents stated that their organization lacked communication on matters concerning health and wellbeing.
Dr Marcus Ranney, Founder & CEO, Human Edge stated, "It is encouraging to observe that a majority of the participants acknowledge the significance of employee health and wellbeing. Employees have unique needs that need to be met with personalised health and wellbeing interventions. At the same time, organisations want results with an impact that can be measured. Human Edge offers solutions that meets the requirements of employers as well as their employees."
An intriguing and captivating discourse during the Summit was also focused on employee mental health, with the primary concern being to ascertain ways of gauging the mental wellbeing of employees. Many respondents reported adopting various methods can be essential, such as sharing mental health resources and information, incorporating mental health discussions into employee induction, training, and development programs, as well as promoting candid conversations about mental health among employees and management.
Whereas the majority of the attendees measured the impact of mental health initiatives through employee surveys on mental health and wellbeing, on the other hand, 29% reported that no measurement is currently being done by their organisation. Additionally, 76% of respondents reported partnering with external organisations or professionals to provide additional employee health and wellbeing support or resources, and 62% of respondents saw quantifiable improvements in workforce productivity or organisational performance due to health and wellbeing programs.