FirstMeridian Launches Recruitment Process Outsourcing Solutions Brand 'Philippe Read'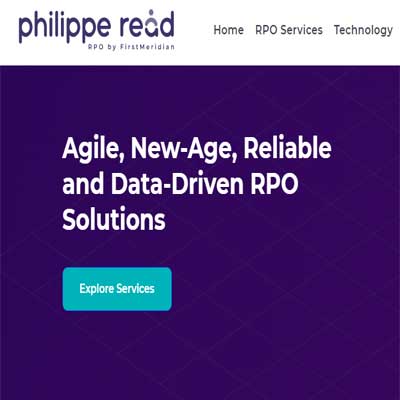 FirstMeridian Business Services announces the launch of 'Philippe Read', a complete integrated Recruitment Process Outsourcing (RPO) solution. The new brand offers a custom mix of end-to-end recruiting services, including workforce planning, applicant tracking system, vendor management system, strategic sourcing, pre-employment screening, recruitment analytics support, and compliance and risk management.
As a result of the COVID-19 pandemic, the world is facing uncertainty in several areas, and recruiting is no exception. Companies are still struggling to adapt to new methods of working, hire new staff, and attract top talent.
RPO solutions by Philippe Read addresses the talent challenges with a broad range of flexible services – from targeted project solutions designed to achieve specific objectives to broad enterprise solutions encompassing every aspect of the hiring process. It offers a comprehensive recruitment service that is both effective and efficient.
RPO services will provide customised Enterprise, Project, and Hybrid RPO Solutions for clients, leveraging technology, industry expertise, deep market relationships, and global talent outreach.
Speaking on the occasion, Group CEO of FirstMeridian Business Services, Sudhakar Balakrishnan said, "We are excited to launch 'Philippe Read', our RPO brand, which offers agile, new age, reliable and data driven RPO solutions. Philippe Read will be led by industry professionals with a combined 20+ years of expertise in creating the RPO business from the ground up and supporting hundreds of high-profile customers with tailored RPO programs for their talent acquisition needs."
Philippe Read RPO Solutions comprises a range of technology to make the hiring process considerably easier for organisations much easier, such as DigiHire, a next-generation Applicant Tracking System (ATS) that digitizes the entire recruitment process from beginning to end. Another technology is DigiVMS, a comprehensive Vendor Management Platform (VMP) that streamlines RPO solution supply and deployment.
Philippe Read is a division of FirstMeridian, which is led by industry experts with a combined 20+ years of experience building the RPO business line from the ground up and reshaping workforces for hundreds of high-profile clients through customised, data-driven, and industry-focused RPO solutions.
Philippe Read RPO solutions focuses on hiring the right talent and optimized business operations for discerning clients.
To know more about Philippe Read and its RPO solutions services, please visit: www.philipperead.com