Exploring the Benefits of HR Automation | Sayeed Anjum | Co-founder & CTO | greytHR.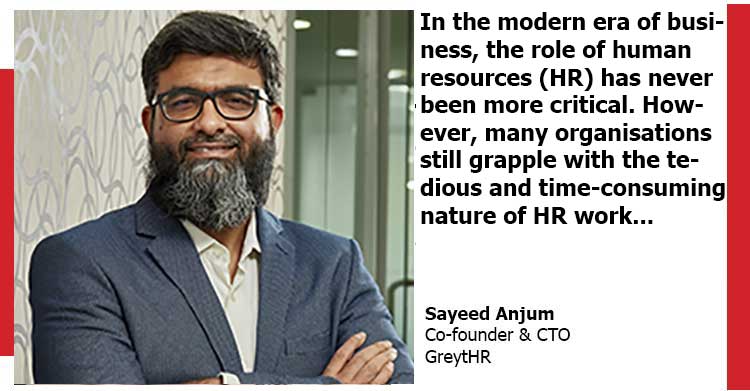 In the modern era of business, the role of human resources (HR) has never been more critical. However, many organisations still grapple with the tedious and time-consuming nature of HR work.
HR automation, with human resource management systems (HRMS), can transform the way organisations manage their HR processes. By automating tasks such as attendance management, leave, payroll, compliance and documentation, HR teams can save time and focus on more strategic initiatives.
In this article, we'll explore the benefits of HR automation and how the same can help organisations function better in today's hyper-competitive business environment.
Amplified Efficiency
Manual and repetitive HR tasks can be taxing and time-consuming. They can result in errors and delays that can impact other departments too. HR automation, with an HRMS, helps streamline processes to get more jobs done quickly and accurately. It also offers HR better bandwidth to perform more strategic tasks that add greater value to the business. Most importantly, HR will be able to address the needs of the employees, management and authorities effectively.
Simplified Documentation
HR confronts the challenge of maintaining and processing countless documents for various requirements. They also spend a lot of time searching for the right information. When documentation is automated, information can be kept on the cloud for easy access. What's more, the employee self-service (ESS) option enables employees to update their own information online. This simplifies and expedites the documentation process for the HR department.
Error-free HR
Excessive workloads and mundane tasks can lead to increased stress and errors in the HR department. These errors can result in delays and a loss of trust in the capabilities of HR team members. Automation will minimise these errors by eliminating manual intervention in complex and repetitive processes. A software solution can perform many tasks more accurately and quickly than humans. After all, to err is human!
Curtailed Costs
Piles of paper/manual work can lead to increased costs for organisations. However, digital documentation and automated workflows can minimise waste and save time and money. Additionally, deploying an HR management system (HRMS) can enable organisations to work smarter by ensuring the right number of employees are in the right roles, leading to increased cost savings.
Elevated Employee Experience
Onboarding delays, payroll inaccuracies and documentation bottlenecks can result in demotivated employees and reduced productivity. HR automation, with an HRMS, results in higher efficiency and hassle-free processes. The employee self-service (ESS) option provides easy information access to employees, thereby saving time and energy for HR. This can result in better retention rates and increased productivity.
Hassle-free Compliance
In a constantly evolving legal landscape, complying with statutory requirements can be challenging and time-consuming. HR automation can handle the formalities automatically, eliminating the risk of penalties. Also, paper-based documentation can make reporting and data privacy management cumbersome and risky. Automation platforms also ensure automatic and hassle-free reporting for HR and payroll.
Robust Data Protection
Keeping sensitive employee information secure is a top priority for any organisation. However, traditional/physical data storage methods can leave companies vulnerable to data theft and misuse. That's where HR automation helps! It enables organisations to securely move their HR data to a cloud-based platform with restricted access.
Summing Up
HR automation, with an HRMS, has become essential for modern businesses. By leveraging this technology to streamline HR processes, organisations can increase efficiency, reduce costs and enhance the employee experience while ensuring compliance with legal requirements.
As such, HR automation is no longer a luxury but a necessity for organisations that want to succeed in today's fast-paced business environment. Therefore, organisations that are looking to improve their HR functions can consider automation with an HRMS platform like greytHR.
Visit greytHR.com to learn more about the greytHR HR automation platform.