Escorts Transformation Office (ETrO) and Udaan Programs – Developing young talent for future Leadership roles | Amit Singhal | Group CHRO | Escorts Ltd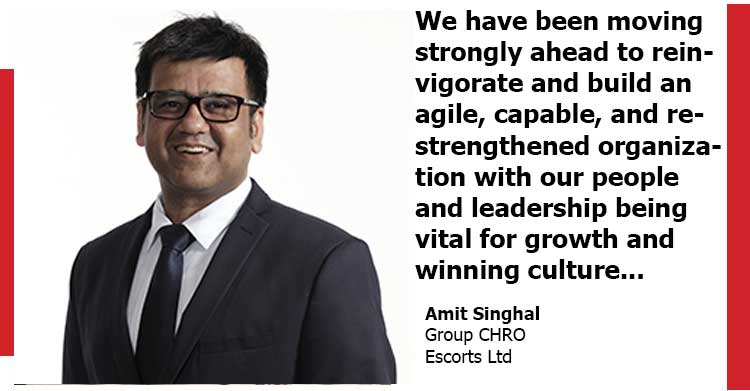 Many of us are familiar with the 'Build' and 'Buy' approach for Talent development. For the Build part, the key is to establish and institutionalize systems and processes for continuous learning and developing leaders for 'Today and Tomorrow'.
At Escorts, we are proud of our legacy and contribution to nation building. We have been moving strongly ahead to reinvigorate and build an agile, capable, and restrengthened organization with our people and leadership being vital for growth and winning culture. We are looking at future with a lot of confidence and zeal to be one of the finest organizations. To achieve this ambition, several strategic projects have been initiated, supported by programs focused on developing young talent, to be prepared for leadership roles faster along with bespoke programs for developing female leaders.
Careers are not just about job titles, but a series of experiences. It is imperative than ever to develop purpose driven leadership capability, multidimensional and disruptive thinking, curiosity to continuously learn and evolve & culture of experimentation with sustainable people practices enabled by technology. Our talent assessment and development programs have been developed considering these capabilities.
Escorts Transformation Office (ETrO) was established to provide opportunities to young talent, leading strategic projects mentored by senior business leaders along with a Program Management Office leader.
ETrO program is open to every Escortian basis the eligibility criterion followed by a multi-level assessment process, most of it being digital and virtual. The ones who qualify are taken through an extensive business orientation as they come from different functions and assigned as project lead for identified strategic business initiatives. More than 90% of first batch participants have already moved to the next level, the step-up leadership roles, post assessment of one year of ETrO journey. We are in the final stages of next ETrO cohort commencing early 2022.
Our Women Leaders Development Program – Udaan, focusses on developing female talent for leadership roles, a critical opportunity area for us. The program is structured around three pillars:
Managing Self: Self-reflection & awareness, understanding resilience and how it affects self & developing an execution mindset.
Managing People: Identification & managing stakeholders, communicating with various personality styles & Authority & Influencing skills.
Managing Business: Understanding & formulation of business strategy, understanding business finance & cross-functional collaboration and being agile.
The program has been developed with hybrid learning, online simulations, sessions with internal and external leaders and influencers along with business projects exposure.
These programs are supported by leaders who are credible & merit worthy, walk-the-talk, have a consistent point of view, are inclusive, empathetic and considerate, thus building the right environment for youth, diversity and inclusion. We believe our future leaders will continue to come from young, diverse, and dynamic Escortians as we institutionalize our development programs like ETrO and Udaan making us much more confident and optimistic about many more opportunities and possibilities.