Elevating Employee Experience: A Path to Organizational Transformation | Krishnaa | Associate Director -HR | Adrenalin eSystems Ltd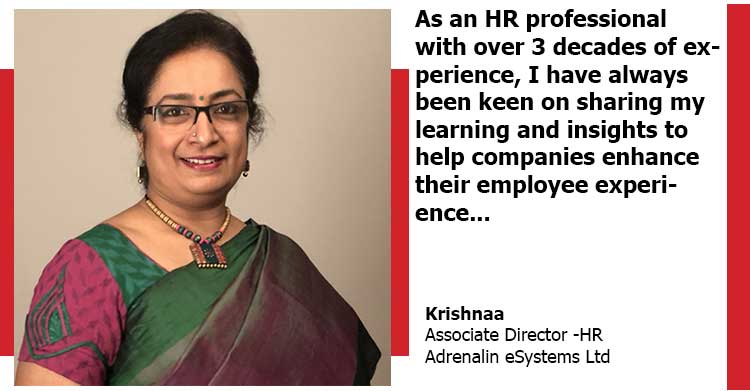 As an HR professional with over 3 decades of experience, I have always been keen on sharing my learning and insights to help companies enhance their employee experience. Currently at Adrenalin eSystems, a 20-year-old global HR Tech platform provider, I actively collaborate with the leadership team to solve organizational problems with a focus on employee experience. Working with various stakeholders has increased my visibility on the different aspects of employee experience and their outcomes. Furthermore, during my tenure at The Hindu, I played a significant role in various areas such as recruitment, performance management, employee engagement, and corporate communications, among others. This helped me understand how to impact the employee lifecycle at every step. Traditionally, these activities were treated as silos. But now, all of these as a whole constitute the employee experience. So, let's start off by assessing why employee experience is important.
Why Prioritize Employee Experience?
Assessing different workplace scenarios has helped me conclude that employee experience is not just a mere buzzword, but rather a fundamental driver of sustainable success. Here's why I firmly believe it should be prioritized:
1. Competitive Advantage: Standing out is important for any organization as it is the basis to attract top talent. In addition, it inspires loyalty within the workforce.
2. Amplified Productivity: Engaged employees have better motivation and commitment. This is turn, drives higher productivity.
3. Talent Retention: Talent retention is key to the continued success of any organization. Employees should feel valued, supported, and inspired to have the best chance of retention.
4. Customer Delight: Customer experience is directly proportional to employee experience. This is because engaged employees create better customer experiences as they are motivated and connected to their jobs.
How to Implement a Transformative Employee Experience?
Implementing a transformative employee experience is a journey that differs based on your industry and what your desired outcome is. Here are few tried and tested ways to elevate your employee experience:
 Embrace An Employee-Centric Culture: Creating a culture that celebrates employees and is inclusive. This will improve trust and encourage open communication between the employer and employees. For example, celebrating festivals that are not local, even in a simple way, will make employees originally from other states feel included.
 Design Thinking: Gathering the right employee data is a good place to start. Based on the data, you can gain insights which will help you create a positive employee experience. For example, in my experience, I have conducted polls to understand which activities employees would love to participate in the most and designed events to include them. This ensured that the events were successful.
 Personalized Onboarding: Having an immersive and streamlined onboarding experience goes a long way in creating a good first impression. For example, sharing a branded kit with the employee's name labelled on it will create a positive personalized experience on the day of onboarding.
 Learning and Development: Creating a personalized learning plan will cater to the employees' long-term goals and fulfil role requirements. For example, if a manager notices a skill gap in an employee, he should request specific training to fill it. This will make the team as a whole perform better and also help the individual grow personally.
 Performance Management: Accurately tracking employee tasks and goals to monitor progress while ensuring alignment with the organization's vision will enhance overall performance. If a manager links team goals with organizational impact, the whole team will feel more connected and be more productive. For example, in 2021, Goldman Sachs introduced a concept called The Three Conversations, which involves conducting performance reviews three times a year. This had a positive impact on employee performance in comparison with the traditional annual review.
 Work-Life Integration: Employees need a favorable work-life balance. So, offering individual flexibility such as remote work or flexible timings based on specific criteria can help balance work and life. For example, if an employee has a long commute to work, offering hybrid work will improve work-life balance and thereby retention.
 Rewards and Recognition: Rewards are always mandatory when it comes to boosting employee morale. Work-based and effort-based recognition can help shape employee behavior and worth ethic. For example, over the years, I have seen employee morale skyrocket for something as basic as a 'thank you' card.
How are we Helping Organizations Design Complete Employee Experiences:
At Adrenalin, we have been able to contribute to the design of unique and complete employee experiences right from onboarding to exit for more than 1500 clients. Helping diverse clients from every possible industry, as a HR digital transformation partner, has enabled us to understand how employee experience influences business outcomes and drives organizational success. In conclusion, I would like to leave you with this thought: put your employees and their experiences first and they will transform the business for you.