Drive strategy through people and create a competitive edge through your people management processes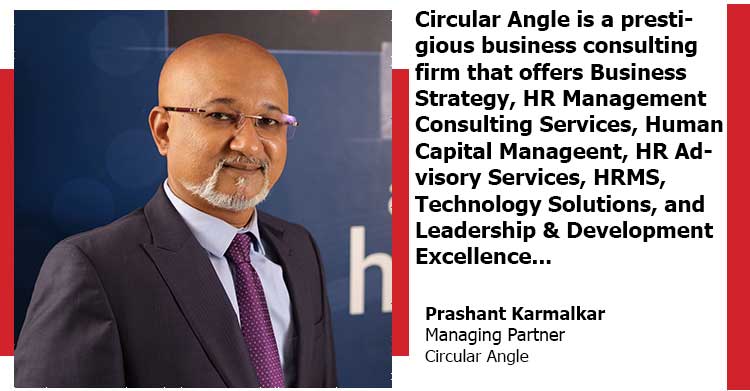 Circular Angle is a prestigious business consulting firm that offers Business Strategy, HR Management Consulting Services, Human Capital Management, HR Advisory Services, HRMS, Technology Solutions, and Leadership & Development Excellence. We are headquartered in Thane, Maharashtra, with offices locations across Pune, Bangalore, and Australia. Our three key offerings include: Leadership Development, Technology, and Strategy & Consulting. The company assists clients to manage their paradigm shifts, whether it be through the implementation of new corporate strategies or optimisation of work processes.
We have served highly distinguished organizations such as Mahyco, Skoda, Volkswagen, Aditya Birla Group, Hindalco, Grasim, JSW, Mahindra, Raymond India, Godrej, Legrand, Bluestar, Honeywell, UltraTech Cement, Voltas, India Cements, Thermax, CEAT, HCL, NSE, Honeywell, and several more.
A large number of returning customers and the favourable testimonials left by clients attest to the firm's high standard of service.
According to a client testimonial provided by Mr. Gautam Chainani, a former group HR president,
"I had the opportunity to engage with Circular Angle over time. In my opinion, there are three things they did exceptionally well.
– The quality of their work was very good, practical, and implementable.
– Their willingness to understand the various businesses across JSW Group and customize their services to the needs of the business was commendable.
– The team led by Prashant Karmalkar was a pleasure to work with and they did their best to deliver the best results possible in the shortest possible time frame. "
Another testimonial by Mr. N. Srinivasan, Managing Director of India Cements elucidates the caliber of services offered by Circular Angle:
"I was always skeptical about value addition by consultants. Circular Angle have opened my eyes and I am a transformed person because of the depth and learning they can impart to us. I wish them all success. I am sure it will follow because of their capability and work ethic"
HR plays a key role in developing, reinforcing, and changing the culture of an organisation. Raising employee motivation, promoting business culture, and filling talent gaps within the organisation are crucial as they directly impact sales and revenue. Most organizations lack the necessary expertise, skills, resources, and knowledge across their human capital, and often seek a reliable partner who can help them build strategies and carve the path to success. Having delivered value for clients for over a decade, Circular Angle can help you tackle your most challenging business problems and set you up for success. Through workforce analytics, talent management, and customer analytics, we have significantly ramped up our clients' productivity. We also offer a "unique first-in-industry" comparative analytics solution to deliver data-driven decisions on performance positioning and compensation modification. We intervene to bridge identified competency gaps and craft a customized roadmap for each client to drive growth and accelerate performance. To help our clients develop their talent and leadership potential, we also provide development centres or stand-alone interventions.
What makes "Circular Angle" stand out from the rest?
Our unique knowledge base and best practice advisory sets our offerings apart from competitors. As outstanding corporate citizens, we understand that corporate responsibility extends beyond simply emphasising the bottom line. We address all forms of business problems and strive to offer creative solutions to clients while adopting contemporary methods to solve unforeseen challenges. Circular Angle develops a trust-based relationship with all clients, treating every project as a unique assignment, genuinely understand client situations, and implementing a personalised approach to add value and meet client requirements.
Circular Angle has received various accolades and recognitions for years of outstanding service, including:
"10 best consulting awards received in 2016"
"Top 10 most recommended HR tech companies 2022 by CIO Insider magazine for incredible expertise and knowledge in technology"
What does the future hold for Circular Angle?
For the road ahead, we are working towards digitizing areas that are yet to be transformed in the HR field. The company is developing a powerful analytics-based platform that builds an optimised organizational architecture and framework. To achieve this, we are currently focusing our efforts on integrating machine learning into our offerings and creating a go-to-market strategy that will enable us to boost clients' business performance. We recognise that finding a trustworthy and reliable business partner is not always easy, and we place a high value on client confidentiality and understand the importance of discretion while dealing with our clients' most sensitive information. We value your business and pride ourselves in delivering best-in-class solutions tailored to your needs.
For more details contact:
prashant@circularangle.com
www.circularangle.com