CloudThat: A Pioneer Cloud Training Company of India is Now an Authorized AWS Training Partner (ATP)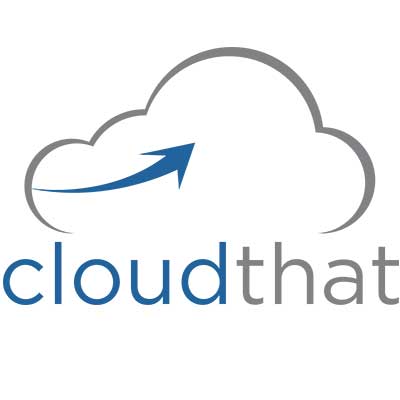 CloudThat was the first company in India to train professionals on AWS Cloud way back in 2012. Since then, having an illustrative experience of enriching professionals with one of the best in Industry training on AWS now CloudThat is officially becoming an Authorized AWS Training Partner. The partnership will further strengthen CloudThat training offerings on all AWS certifications and meet the needs by focusing on training designed at source by AWS experts to empower professionals at all levels. CloudThat's exclusive access to AWS curriculum, course content, and delivery strategies ensures completely industry-aligned training.
Through this partnership, CloudThat is keen on providing a career enhancement by training enterprises to equip their employees with relevant skills and prepare a future-ready workforce. This partnership will help businesses in building and validating cloud skills in employees to get more out of the cloud. It will also assist in building foundational knowledge, develop specialized skills, and achieve accreditation and certification for professionals to demonstrate competency and enterprises to be ready with skilled workforce that is future ready. AWS has a wide variety of certifications that disseminate skills and knowledge, helping professionals at all strata of corporate ladder to get trained by CloudThat's industry certified trainers with staunch experience in delivering training on emerging technologies. CloudThat's alliance with AWS will immensely help individuals looking to move up in their career path by accessing quality trainings through certified trainers and authorized curriculum giving a definite edge over the counterparts.
Speaking on this partnership, Bhavesh Goswami, Founder & CEO, CloudThat, added "CloudThat has been the most impactful cloud training company in India since its inception in 2012. By becoming an AWS Authorized training partner, we can help individuals and enterprises get access to quality learning, with authorized AWS curriculum, courses and Labs. Our partnership with AWS will help the Indian cloud ecosystem by bridging the skill gap in the industry and empowering individuals and enterprises."
This training partnership will combine the power and innovation of AWS and CloudThat's global expertise in cloud training services to enable a developing and growing Cloud-Enabled next-gen IT workforce. It will also help in specifying best practices and employee development activities in various cloud computing domains to ensure CloudThat's competitive edge.
Founded by Bhavesh Goswami, an ex-Microsoft and ex-Amazonian who was part of the Microsoft and AWS product development teams, CloudThat is focused on quickly empowering IT professionals and organizations by leveraging Cloud, AI/ML, Big Data & IoT. CloudThat has trained more than 4 Lakh IT Professionals in niche technologies such as AWS, Azure, GCP, DevOps, Kubernetes, Dynamics 365, Microsoft Security Suite, AI & Machine Learning, Cloud Security, Analytics, Docker, Ansible, Big Data and aim to double the number in coming years in association with AWS.
For more details visit https://cloudthat.com
About CloudThat
CloudThat is the first company in India to provide Cloud Training & Consulting services for mid-market & enterprise clients around the world. With expertise in major Cloud platforms including Amazon Web Services (AWS), Microsoft Azure, and Google Cloud Platform (GCP). CloudThat is uniquely positioned to be the single technology source for individuals and organizations looking to utilize the flexibility and power of Cloud Computing. For more information, visit https://cloudthat.com