Brillian S. K | SVP & Head – Human Resources | Times Professional Learning a division of Bennett | Coleman & Co. Ltd.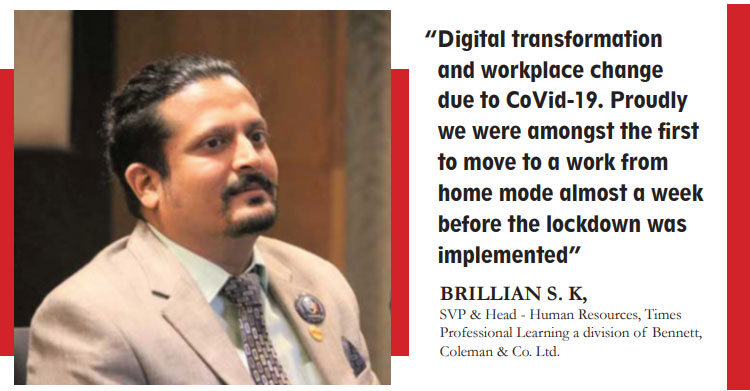 Brillian is responsible for people and process strategy at TPL. In addition he is a Senior Mentor supporting the Operations and Quality team. Brillian is an active member of Toastmasters International and has served in various leadership capacities. He is also a Gallup certified Strengths Coach(C). Brillian is passionate about learning, photography and helping people explore their full potential. He volunteers to various social causes and isassociated with a womens polytechnic as an advisor and visiting faculty. Views shared are personal.
---
Q1. Times Centre for Learning Limited – an education initiative of Bennett, Coleman and Co. Ltd. "Transforming Learners into Winners" is the mission of the organisation. Kindly brief how your organization is developing or equipping the students for industry ready?
A1. It is well known that conventional education falls short of industry expectations. Be it practical application, soft skills, or keeping up with contemporary knowledge that is evolving continuously. We operate in two primary segments – Employability and upskilling, to equip our learners with sector-focused knowledge and industry-relevant skills. This prepares learners to seize winning career opportunities facilitated through our wide reach of
relationships.
TimesPro leverages technology, and a deep network of corporate hiring partners, to design and deliver professional educational programmes to bridge gaps between conventional education and industry demands. We are front runners in delivering relevant and quality education that skills the learner to be job-ready.
TimesTSW partners with quality national and international institutions like the IIM's, IIT's, XRLI, Stanford, MIT to provide a world-class education to all our learners. Collaboratively we aim to create a seamless executive education experience that aids learner growth and role enhancements.
TimesPro and TimesTSW embody the revolution in learning that Education 4.0 symbolises:
Learner-centric, industry-relevant, and technology-supported, with a focus on employability and upskilling and accelerating career growth.
In addition to these, we also offer bespoke programmes designed based on the diverse L&D needs of corporates.
Q2. What are the best practices for bridging the skill gap? What do successful organisations do to address this issue?
A2. According to the latest survey conducted by Gartner, Digitalisation is widening the skill gap. CHRO's believe that there is a significant skills gap. 64% of managers think their employees cannot keep pace with future skill needs. Furthermore, 70% of employees say they have not mastered the skills they need for their jobs today.
While there are many things that organisations could do to reduce the skill gap, we should start by focussing on:
• Building connected learners: The most effective way for HR leaders to help
employees keep pace with shifting skill needs is by building connected learners.
Organisations must evolve their approach to employee development across several key fronts: skills identification, employee motivation, and learning solutions.
• Equipping employees with future skills: We start identifying the roles needed in the next three, five, and ten years. Then work backwards to map relevant skills to potential new roles that maybe required and build interventions to reskill the current workforce to adapt to the desired new skills and roles.
• Embracing Continuous Learning: We encourage employees to take the initiative to learn and implement new ideas. Tomorrow's leaders must embrace continuous learning as both a personal and an organisational value to create a culture of growth and collaboration.
As a learner-centric organisation, we capture the learner life cycle and provide upskilling opportunities throughout their career.
Q3. Do you agree that enhancing organisation's analytic capability is very important?
A3. Absolutely. Analytics provides a continuous cycle of understanding and improving business process performance. Analytics help us focus on high-impact areas by asking smart questions. Companies already have at least a subset of the capabilities they need to engage in business analytics. The challenge is to push those capabilities even deeper into the organisation from business executives to the front lines. As more and more organisations pursue analytics as a business tool, those that can effectively use analytic insights to inform
high impact processes and decisions can outperform those that lag. The need today is to empower the front-line staff to embrace analytics effectively.
Q4. COVID 19 has disrupted every sector. How has Times Centre for Learning adapted to it? What effective strategies/ initiatives have you implemented to manage talent and culture during COVID times?
A4. Managing talent during the current pandemic is centred around unpredictability. It all started suddenly and not even Google can tell us when this will end. The ongoing adjustments and lasting impact need to be managed sensitively. Covid-19 has rewritten the way people work. To an extent, it has tested the empathy and preparedness of all organisations across the globe in dealing with an unplanned agenda of balancing employee wellbeing while focusing on productivity. Globally organisations have undergone Digital
transformation and workplace change due to CoVid-19. Proudly we were amongst the first to move to a work from home mode almost a week before the lockdown was implemented. A special CoVid-19 taskforce comprising of members from Business and enabling functions worked seamlessly to make the transition from an office job to work from home easily. This not only gave us a head-start but also gave confidence to our staff about our ability to work remotely and delivery quality outcomes.
Our focus has been on creating a positive employee experience and engagement. To tide over the current pandemic situation, we revisited our existing strategies emphasising on the following
• Timely communication and connect with staff across levels: We have increased
employee communication in volume and frequency and effectively engage, educate, and empower employees. Enabling employee feedback and developing and delivering clear and easy-to-understand messages are the top priorities for us.
• Focus on Safety and Emotional Wellness: Everyone has been affected differently by the pandemic. Whether that be adjusting to a new work-life situation, the loss of a job of a family member, or bereavement, the weight of these unprecedented times can be heavy, and significantly impact our mental health. We have built a wellness initiative through which we organise sessions with wellness experts, medical doctors and informal discussions that
has helped in addressing issues that directly or indirectly affect our staff.
• Redesign of the Rewards & Recognition programs: Times have changed, and we know what worked earlier may no longer be applicable. The need for instant recognition and rewards where applicable has given a new twist to our R&R Strategy. We cannot simply return to pre-pandemic reward and benefits assumptions. We have created relevant and highly visible modes of R&R with focus on instant recognition on various forums. This has been a change from our earlier days wherein we celebrated our staff achievements events.
Q5. What is your overall long-term vision and philosophy for the HR task?
A5. The HR Vision is aligned towards building a strong performance-linked culture aimed at improving business outcomes. We have clearly defined "Purpose Statements" for each of our business units making it easier for HR to partner with Businesses towards achieving them. It has been our constant endeavour to focus on creating a seamless workplace experience in a hybrid mode of working, building our employer brand, and being a just and equitable employer. All our practices are aimed at inclusion and we have a diverse talent pool that is the core of our uniqueness. In the current phase of the pandemic, we are proud
that we have managed to attract and retain some of the best talents in the industry.
We exist because of the wonderful people and respect for individuals is a philosophy we live by. Our success is directly linked to people and stickiness of talent and it is our constant endeavour to provide a nurturing environment that aids innovation and experimentation.
The five core values (Learner Centricity, Integrity, Speed with Execution Excellence, Innovation Culture, and Enduring Engagement) stand as a testimonial of our agility and focus to drive business results. HR as a function has evolved over time and is now an advisor and partner in delivering business growth.
Brillian S. K
Senior Vice President & Head Human Resources
Times Professional Learning, a division of Bennett, Coleman & Co. Ltd &
Times Centre for Learning Limited.