Axis My India's Mission India Campaign brings 'purpose' to young employees | Pradeep Gupta | Chairman & MD | Axis My India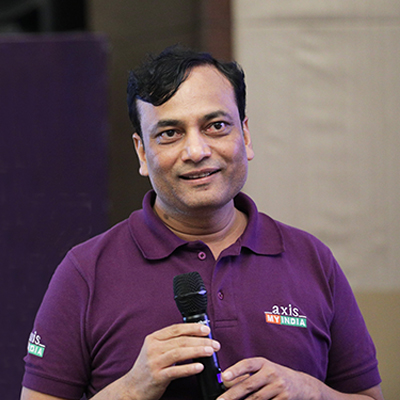 A company's culture reflects in the way it engages with its employees, right from the recruitment stage up to the employee's exit. From fostering entrepreneurial thinking to institutionalising transparency in processes and communications, organisations are constantly looking for ways to empower their employees by helping them find a 'purpose' that defines who they are beyond their job roles.
This motivation to find a purpose is often more relevant for fresh graduates or entry-level job seekers, who often approach the corporate world with a lot of fresh enthusiasm and fire in their belly. These young and invigorated minds are full of confidence and constantly look out for rich experiences that would help them fuel self-growth and contribute towards a greater cause.
In an attempt to marry these evolving needs of employees with the company's vision, Axis My India, one of India's leading data intelligence company, recently launched the 'Mission India Campaign'. Through this initiative, the company aims to convert 5000 'focused' and 'disciplined' individuals into Axis My India soldiers and motivate them to improve the lives of 25 crore households of India. In addition, the company is at an inflection point wherein it is trying to expand its portfolio of service offerings of consumer insights to corporations, governments and multilateral bodies. For the same, it is looking at hires across four key roles – technology and data analysts, quality control & assurance, data collection agents and centralised operating managers. It is within the organisation's DNA to continuously increase its contribution to the country's growth, and build a more 'connected India'.
While company culture and mission are fairly unique to each organization, the fundamental agenda of every company is to find people who are the right fit and have a direct and positive impact on the business. Finding such a fit ensures the success of the employees, as well as organisational growth.
Axis My India at its core, is the interaction of cutting edge technology with the most authentic human perspectives and preferences. Basis the same Axis My India is hiring mindfully and is looking for people who not only meet the prerequisites like strong analytical and technical skills and attention to detail but can also articulate complex socio-cultural complexity and tangibly represent it in terms of data. The company is also looking for people from different social and economic backgrounds. It believes that hiring people from diverse backgrounds is not only good for company culture, but can also help bring unique perspectives to the table.
Good habits such as regular sleeping patterns, punctuality, not smoking, and refraining from alcohol consumption, are a few other equally important criteria as the nature of the job requires hires to be physically and mentally fit. The company is looking for candidates who have an inexorable attitude, are self-motivated, and have a huge adaptability quotient (AQ) to help them keep up with the massive scope of work (from conducting field surveys to delivering presentations). The recruitment campaign will also focus on understanding the most challenging situations which the potential hires have faced, to determine their suitability to the positions.
The digital video for this campaign depicts some of these aspects required in an Axis My India soldier. It narrates the anecdote of a common man who is committed to his duty towards the nation. From confidently hosting presentations in his posh office to readily interacting with villagers in rural India, this man does it all. While he takes pride in being a part of Axis My India's mission, the intertwined fearless lyrical rhythm further captures his unbreakable spirit. The story seamlessly weaves in a voiceover detailing the requirement of 5000 Indians who would be ready to 'report for duty, when India calls'.
Axis My India is a first generation entrepreneurial Indian company and nation building is its priority. This is why all its employees are encouraged to have an ownership mind-set wherein they can come out of their comfort zones and act like an owner. Its culture can be best defined as a confluence of military & sport to inculcate military level precision and sport like joy & thrill. The company not only shapes a collaborative and problem solving mind-set among employers, but also help in creating a more enriching and value-driven work environment dedicated to achieving bigger goals for the society. As more and more companies move towards a community-oriented growth approach, the possibility of a more connected India is not too far off in the future!