1,100 profiles shortlisted for 100+ job roles in Careernet's annual 'Career Fair for Women'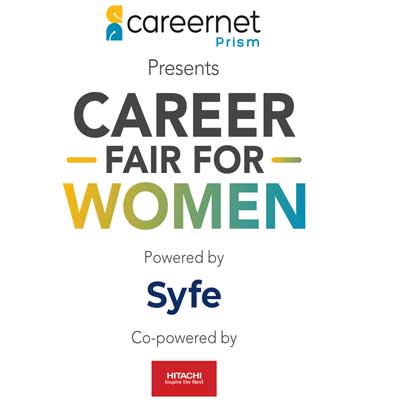 Careernet, India's leading talent solutions provider, successfully organised 'Career Fair for Women', presented by Jar, powered by Syfe, co-powered by Hitachi, and supported by Roche, Mobileum, Sapiens, Lam Research, and HirePro on April 16. Keshav Suri Foundation, an NGO dedicated to embracing, empowering, and mainstreaming the LGBTQ+ community, was the Community Partner for the event. The virtual career fair was intended to help employers build inclusive workplaces with diverse talent and provided a platform for 1,000+ female candidates to discover quality career opportunities with top employers looking to bring female talent forward.
The event attracted 1,481 registrations and 1,143 candidate attendees who each had the chance to explore senior and mid-level tech and non-tech roles. The virtual career fair successfully connected women professionals with 100+ job opportunities from all the employers. Candidates were recorded making multiple visits to employers' booths, which amounted to 487 by the end of the event. Employers have reported a one-month time window for processing candidates and releasing offers.
Speaking on the occasion, Anshuman Das, Co-founder & CEO, Careernet, said "We were pleased to see that the virtual career fair for women elicited such a great response from the community. We saw a good participation from the top employers who share the same vision of giving female talent a level playing field to unlock their potential and access better opportunties. We hope this year's turnout inspires greater participation from more employers and female talent in the future."
The key speakers at the virtual career fair were Ira Singhal (the first woman with a disability to top the civil services exam); Mukesh Gupta, Head of Engineering, Syfe; Deepika Harish, Manager, Technology, Roche; Lakshyya Mahalwal, Head of Product Design, Roche; Rakhi Shaha, Senior Director-HR, Mobileum; Tripti Arora, Director, Global leader Quality and Program Excellence, Hitachi Vantara; Ketaki Borkar, Senior Delivery Manager, Sapiens; Swapna Hosur, Software Manager, Sr.II, Lam Research; Aashi Mirani, CEO office, Jar, and Rekha Manola, APJ TA consultant and TA, DE&I Lead, HP.
Speaking on the occasion, Snehal Samant, VP, Product, Syfe said, "Diversity is very central to Syfe as a global company that is on a mission to democratise high-quality financial services to all individuals across Asia. With over 140 team members from 17 different nationalities across our offices in Singapore, India and Hong Kong, we believe that diversity empowers our team to drive innovation and create relevant products for users all over the region. We are glad to have partnered with Careernet's virtual Career Fair for Women, which builds on our commitment to create more diverse teams."
From the live online polls in the career fair, 66.5% of candidates believe flexible work options will encourage more women to join the workforce. While 36.5% of candidates believe commute is the biggest concern while transitioning to the hybrid mode of work. Over 54.0% candidates believe that employers are doing enough to treat women equally in the workplace while 46.0% don't. While 50.7% respondents of the poll reported that better work-life balance is what they like about the hybrid work model.
Speaking on the occasion, Nishchay AG, Co-Founder and CEO, Jar, said, "Majority of our 5 million user base is men. There is a gap between men and women when it comes to financial literacy and independence. In order to bridge this gap, it is important that we acknowledge this fact to begin with. We at Jar are committed to helping women start their journey of financial independence, and partnering with Careernet's Career Fair for Women is one small step in this direction."
Careernet Prism enables employers in India to build inclusive workplaces with diverse talent. In the year 2021, every 3rd candidate placed by Careernet was a woman. The event provided a platform for working women professionals, women looking to restart their careers and women from PWD and LGBTQ+ communities a platform to connect with top employers, apply for jobs and exchange professional experiences and learnings.
Kohila Devi, one of the candidates, mentioned, "I attended the Women's Career Fair and conference conducted by Careernet. It was really useful as the companies that participated were in line with my job search. The sessions were very informative and interactive, and the conversations at the virtual booth with HR leaders and directors were really helpful. Looking forward to the next phase of opportunities."
For more information, please visit- https://careernet.in/diversity-and-inclusion/
About Careernet:
Careernet is India's leading talent solutions provider. Founded in 1999, the company's mission is to shape the careers of talented professionals and scale the teams of organisations. We help companies acquire the best talent by making their recruitment experience seamless with technology innovations. Careernet offers a comprehensive suite of talent solutions, some of the prominent ones being Recruitment Process Outsourcing, Permanent Hiring, Professional Staffing, Leadership Hiring, Diversity and Inclusion, Digital First Hiring, Talent Branding, Research and Consulting and Career Transitions. The company started its journey with a focus on technology hiring and very soon had a campus recruitment offering encompassing all top technology schools in India. In 2004, they incepted HirePro Consulting Pvt. Ltd. to their portfolio to provide dedicated solutions for automation, assessments and university hiring. Four years later, in 2008, the company incepted LONGHOUSE Consulting with the charter of building a leadership talent ecosystem for the digital economy in India. LONGHOUSE helps organisations in different stages of their journey to find the best leaders and make them future-ready. Today, Careernet serves over 1,000 active clients across 3 business brands and have more than 2,000 employees with dedicated offices in multiple locations across the country.